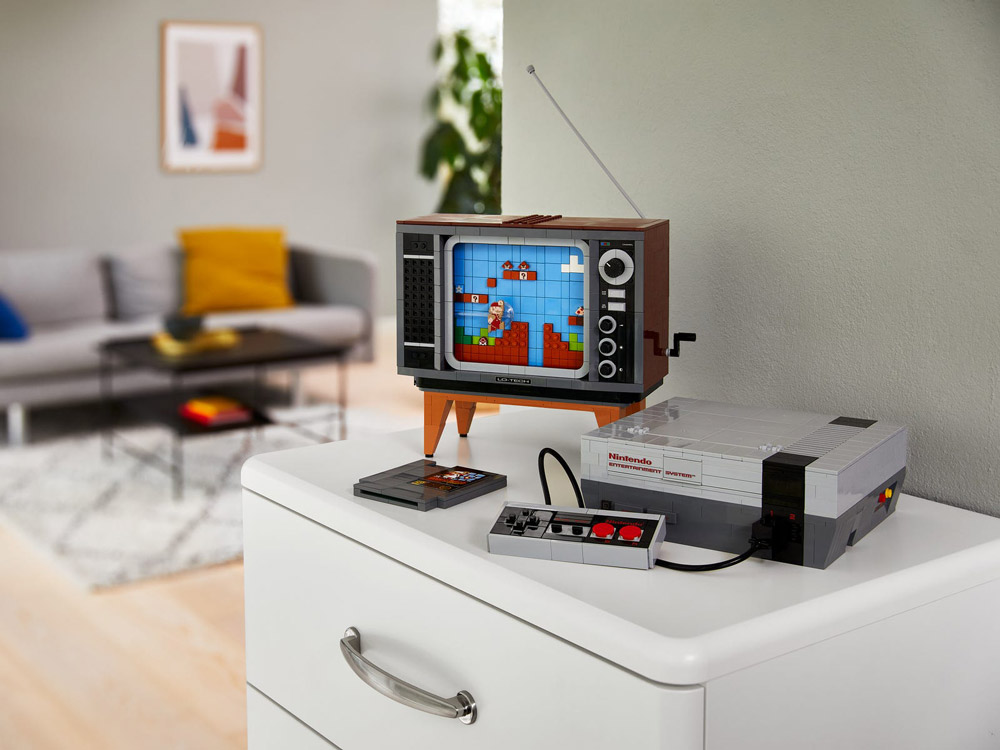 An official Lego Nintendo Entertainment System has been announced. It follows the recent announcement of the Lego Super Mario Theme. With these new sets, Nintendo fans are reaching new heights of excitement. The Lego NES (71374) is a huge release. It comes with a complete NES, controller, a Super Mario Bros. cartridge, and a retro TV. All together there are 2,646 pieces priced at $229.99. This new set will be available starting August 1st (you can order now),
the same day as the Lego Super Mario theme.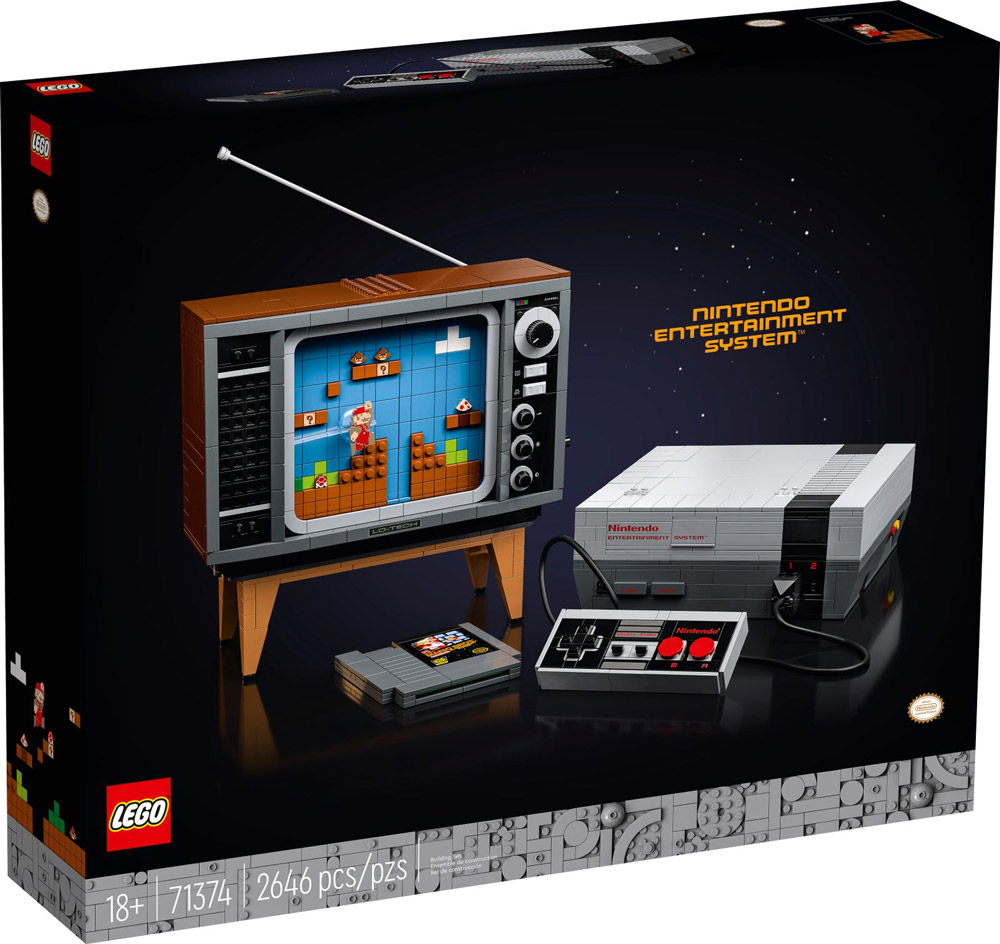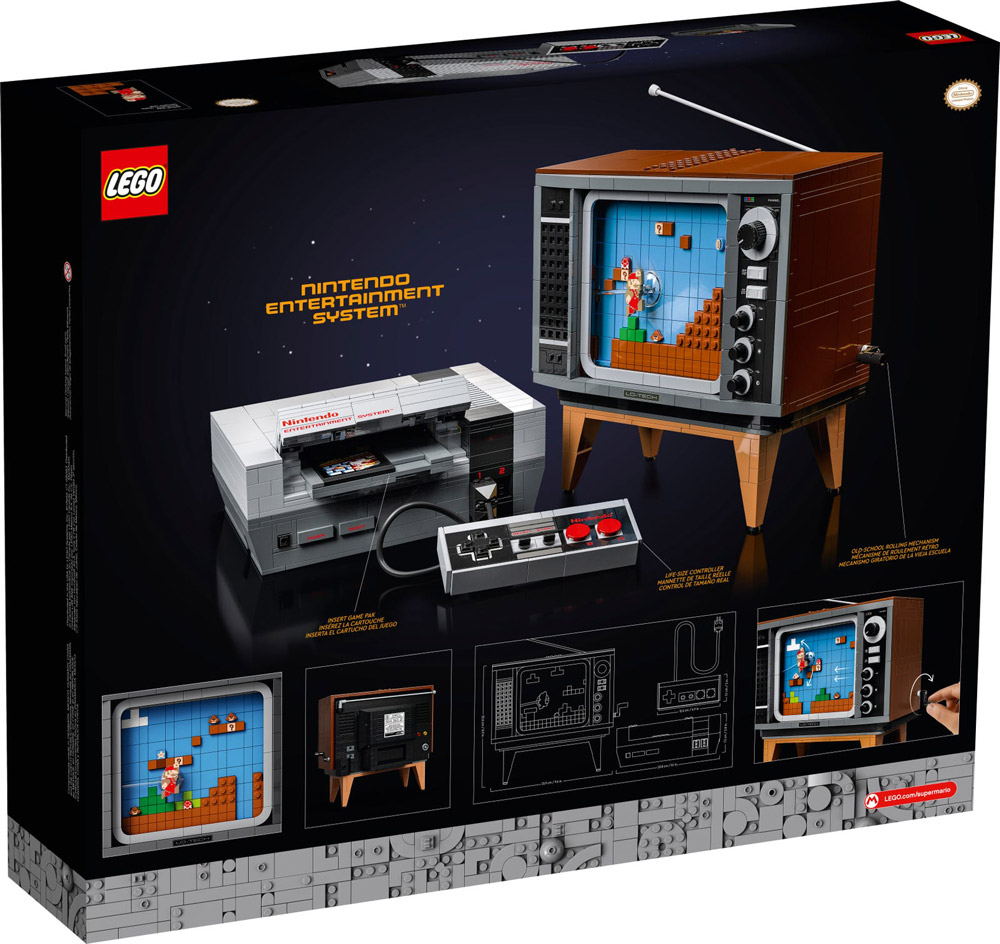 Lego and Nintendo went all out on this set. Specifically trying to be as accurate as possible. The nostalgia is one of the main selling points as Lego points out that this set is a way to recapture childhood magic. You can plug in the controller and even load the game cartridge. The Lego NES is mostly in scale, and the size of this set is a lot bigger than first appearances.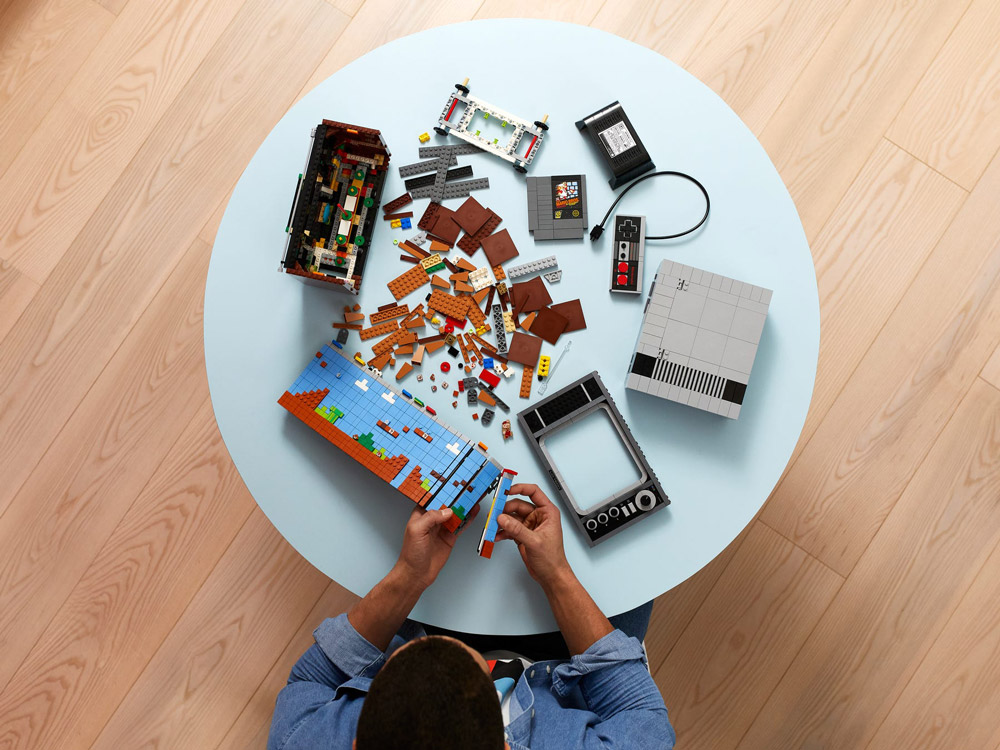 One of the coolest features is the 1970s / 1980s style television. It features all the expected fake wood paneling, knobs, and even comes with a stand. A lot of the labels and details are achieved with stickers, which in a way, is accurate to these old TVs.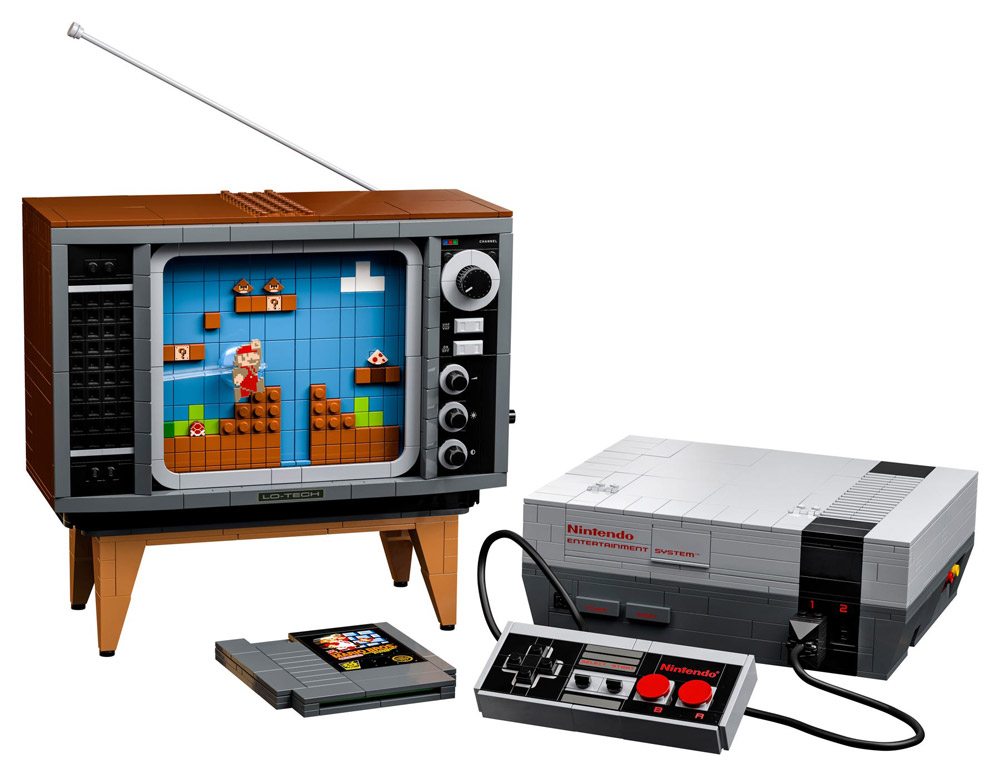 The backside reveals some very interesting build details. According to the label, this is a LO-TECH 1310 Color TV. The old hook ups are all present (coaxial and component), and an antenna can be positioned in whatever direction needed to pick up those Lego signals. On the side is a small hand crank, which leads to one of the most interesting Lego play features ever built.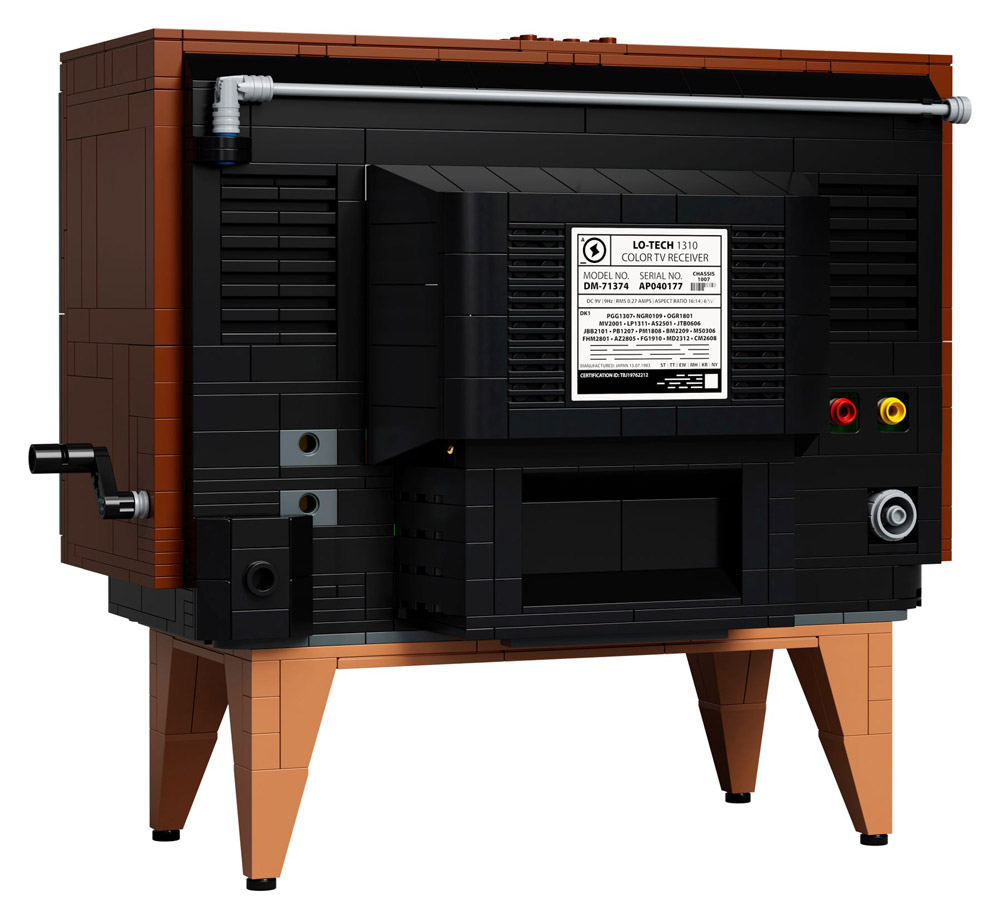 The TV displays a Lego version of the first level from Super Mario Bros. The special feature is that with the hand crank you can advance the level all the way to the end. The effect is achieved with a complicated system of Technic pieces and a lot of flat plates. A bunch of neat printed tiles are featured including: Goombas, Koopa shells, a super star, coins, and question blocks. There is even a custom printed Lego Mario tile!

As the level advances (by turning the crank) Lego Mario will actually run through the level. Running and jumping all the way to the end. You can even combine the bluetooth Mario figure from the Super Mario theme with the TV. The Lego Mario will animate and play all the music and sound effects in time with what is on the TV. A neat feature, achieved with a bunch of brightly colored plates. An evolution of what is found in the Hidden Side theme.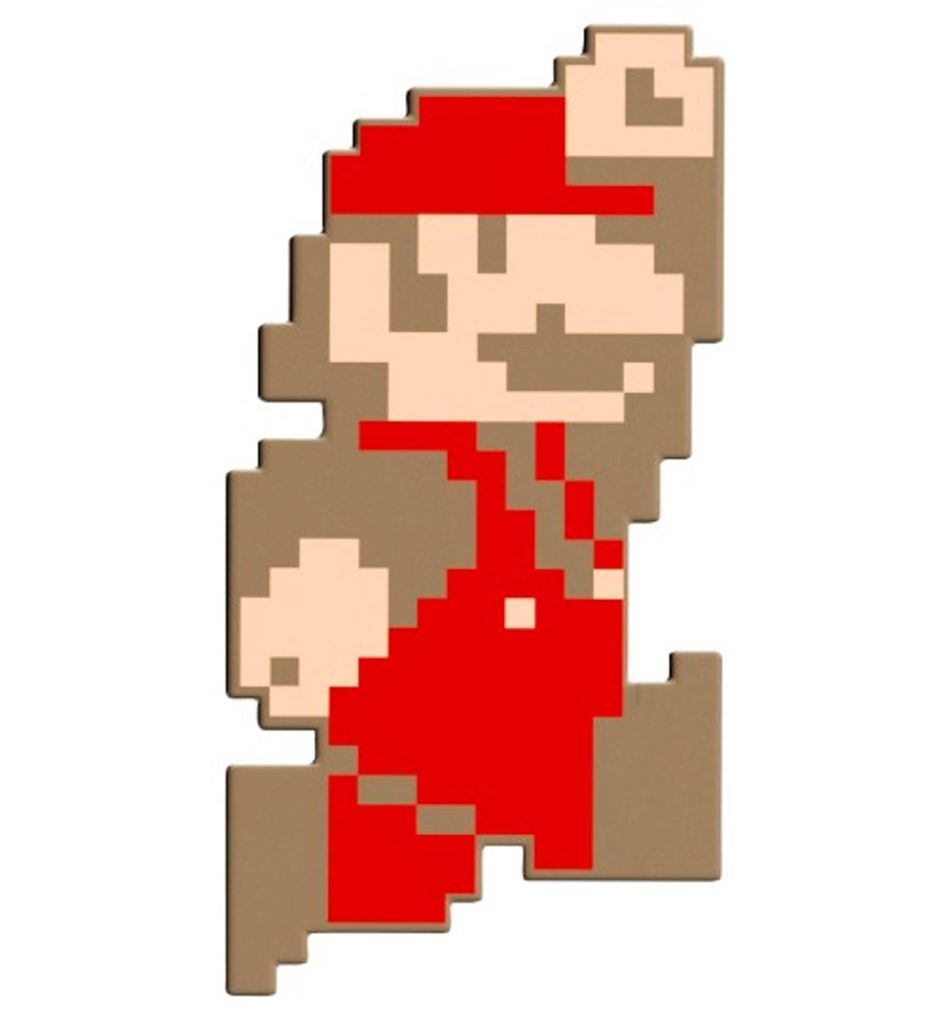 You can find more details and order this Lego Nintendo Entertainment System at the official Lego Website.
If you are looking for a lot more video game themed Lego stuff you can find more on EveryDayBricks over here: http://everydaybricks.com/tag/nintendo/