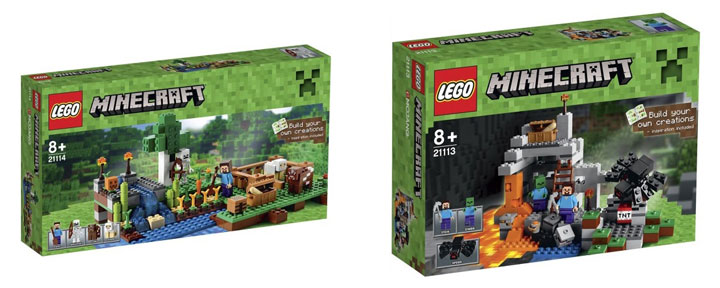 The Lego Minecraft theme has been one of the most successful lines. The first few Micro World sets capture the spirit and look of the super popular video game, but the tiny Lego pieces and small size were deterrents to the smallest Lego Minecraft fans (and people with large fingers). The good news is the there is a whole new theme for Lego Minecraft coming in 2015. There will be 6 sets in this release, including a super interesting Crafting Box. This new style of playset reminds me of the more imagination friendly Brick Boxes. This is a really interesting direction to explore, and it will more then likely prove to be very popular.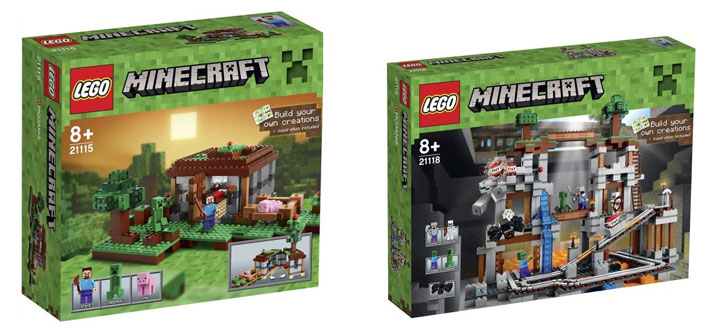 Lego Minecraft: The Farm (21114)
Lego Minecraft: The Cave (21113)
Lego Minecraft: The First Night (21115)
Lego Minecraft: The Mine (21118)
Lego Minecraft: The Ender Dragon (21117)
Lego Minecraft: The Crafting Box (21116)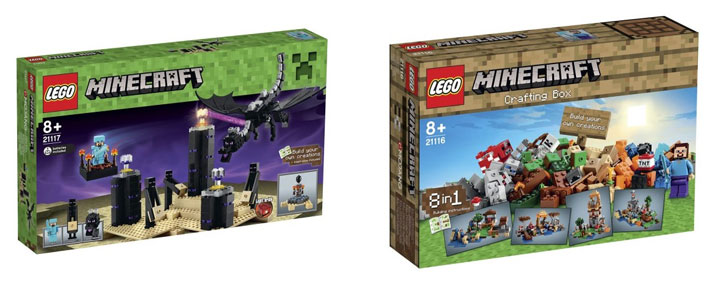 Official set descriptions for two of these new Lego Minecraft sets have been found:
The Cave (21113)
Venture into The Cave on a dangerous quest for vital resources! Wield the iron pickaxe to dig and battle against hostile zombie and spider mobs. Blast out valuable ores and minerals with the TNT and combine the flowing water and lava to create precious obsidian! When you're done battling and mining, restore your energy levels with the chest of bread. Proceed with caution! Rebuild the set for more LEGO Minecraft creations! Includes 2 minifigures with assorted accessories: Steve and a zombie, plus a spider
The Farm (21114)
Yield renewable resources with The Farm! You'll need food to survive, so fence in the livestock and channel the flowing water to nurture the crops. Harvest pumpkins, wheat, sugar cane and carrots. Use the crafting table to create a pumpkin helmet or jack-o-lantern. But watch out for the skeleton with his bow and arrow after nightfall! Rebuild the set for more LEGO Minecraft creations or combine with 21115 The First Night and other sets in the series for an even bigger Minecraft adventure! Includes a Steve minifigure with an accessory, plus a skeleton, cow and a sheep.
Thanks to The Brick Fan for rounding up some of this information: http://www.thebrickfan.com/lego-minecraft-minifigure-scale-sets-official-box-images/
Check out more Lego Minecraft stuff here: http://everydaybricks.com/?s=minecraft&submit=Search