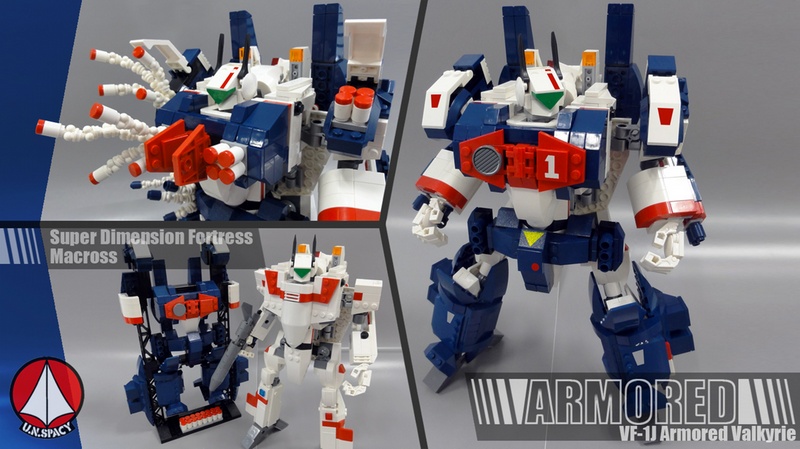 Macross (also know as Robotech)
is one of the most famous anime series from Japan (Gundam being the other). First appearing on television in 1982, Macross has been steadily available across a variety of formats. The most recent incarnation is the movie Macross FB 7: Ore no Uta o Kike! (Macross Dynamite 7: 15th Anniversary) and the Macross 30: The Voice that Connects the Galaxy video game. This science fiction series is centered around gigantic mecha robots known as variable fighters (veritech fighters in the Robotech variation). These variable/veritech fighters, commonly referred to as Valkyries were essential during the first Human-Alien war.
The VF-1 Valkyrie looks like a modern fighter aircraft, but it has the ability to transform into different modes/configurations. The standard space/jet fighter mode, the GERWALK (guardian) mode, and the Battroid (Battloid) mode. The GERWALK resembles a "chicken walker" style mecha and has VTOL capabilities. While Battroid mode is a full humanoid mecha. The pilot of the Valkyrie is Hikaru Ichijyo.
The Lego Macross VF-1 Valkyrie + Fast Pack + Armored is the creation of maxvf1, and has a fully detailed Lego CUUSOO proposal. The proposal is for a single VF-1 Valkyrie that can transform between all three modes (Fighter, GERWALK, Battroid) while retaining the detailing and design from the Macross series. The designer, maxvf1 has even included many variations that could be produced. Including the VF-1S and VF-1J. Although the focus is on the VF-1 Valkyrie. Even a hanger dock and Armored variations have been proposed.
These Macross Valkyries are extremely well made. Featuring fully posable articulation, and transformations (check out the YouTube video below). These are exceptionally accurate models. If for whatever reason this project never makes it out of the CUUSOO process it would be great if instructions could be provided. Mecha MOCs are always in demand.
The designer of these VF-1 Valkyrie mechas, maxvf1, has kept up a great and detailed Lego CUUSOO page here: http://lego.cuusoo.com/ideas/view/638