The Grand Billund is a huge Modular style Lego MOC, created by Will. It is a corner building that features a very fancy hotel, modern elevator, a hotel restaurant called the Billund Bistro, and a swanky rooftop pool. Most of the official Lego modular buildings are three floors, but this hotel stands at five floors. A multi-story hotel sign similar to the Cafe Corner points to the front door. Which has doors (similar to the Palace Cinema) manned by a bellhop that open up into a spacious lobby. The second floor through the forth are small but completely furnish hotel rooms. Three per floor. The fifth floor features a penthouse suite. A perfect room to spend a night in after getting married at the nearby Town Hall.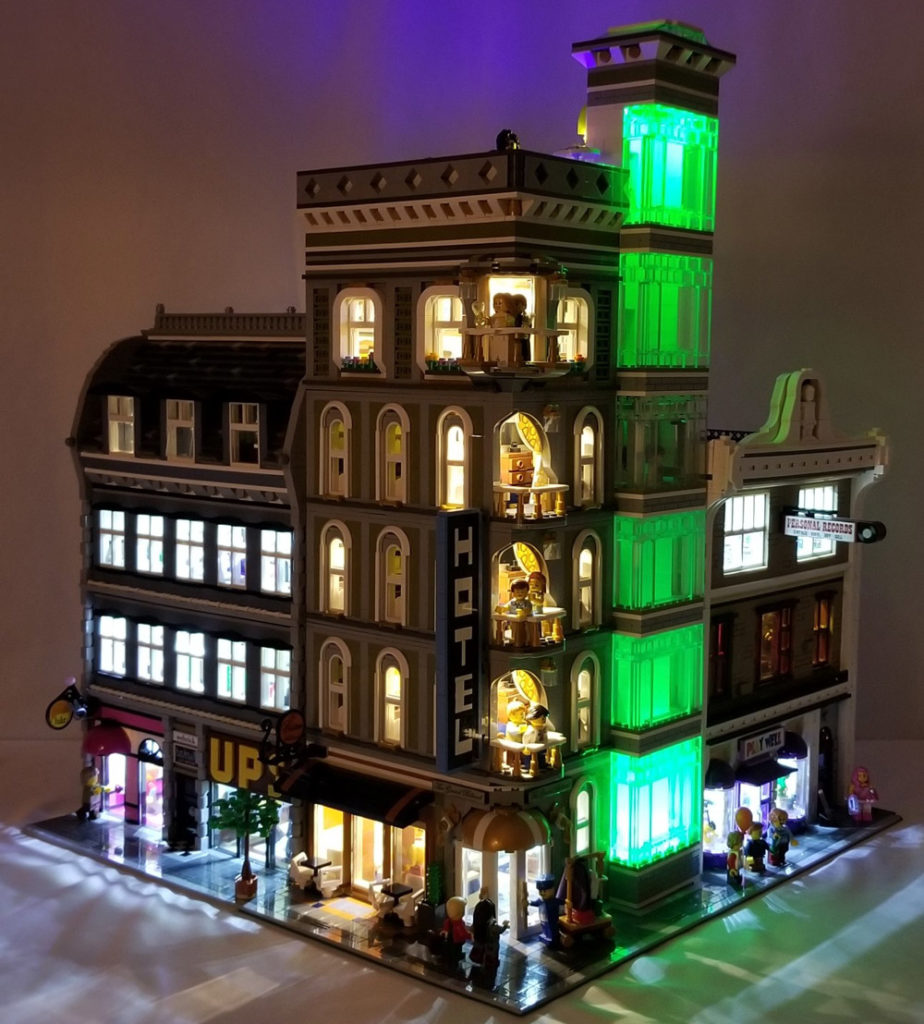 The biggest (litereraly) feature of the building is the modern glass elevator. Lit up with bright green lights it is the quickest way up to your floor. The Grand Billund hotel is all wired up for night. The different color temperature LEDs shows off the older part of the building and the newer remodeled area, a great detail.
The bridal suite has very lavish furnishings. A huge bed, massive mirror (from the Assembly Square), balcony access, and a full kitchen. All thats left is the rooftop. The only way up to the top is by the glass elevator, but once outside your Lego Minifigures can enjoy a refreshing pool, hot tub, and lounge around in the sun. The SNOT style flooring is especially eye catching.
There are a lot more photos and details (including how the elevator works) for The Grand Billund over here: https://www.flickr.com/photos/29927080@N03/49785680758/
You can also find a lot more Lego Modular themed stuff on EveryDayBricks over here: http://everydaybricks.com/tag/modular/