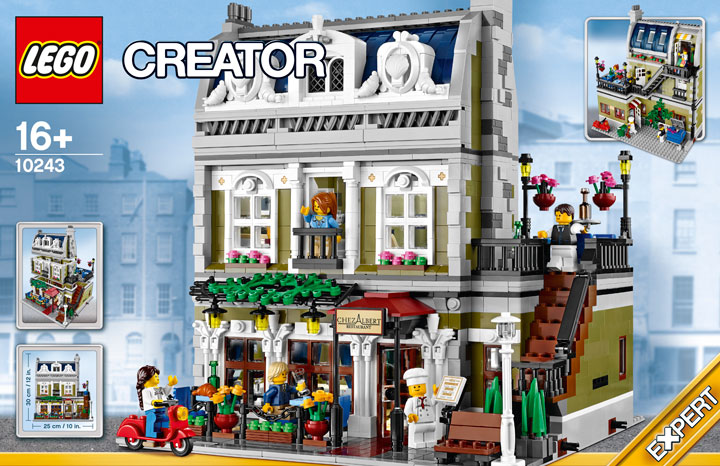 During Brickcon 2013 Lego has officially revealed the newest Modular Building, the Lego Creator Parisian Restaurant (10243). This is a very different modular then the recent releases from Lego. The building doesn't completely fill (vertically) the 32 stud baseplate. Instead having a small outdoor patio on the roof of the first floor. The first floor is an extremely detailed parisian restaurant. With a small apartment (Murphy bed!) on the second floor, and an artist studio at the top. This set will come with 2,469 pieces at a price of $159.99. The Lego Creator Parisian Restaurant (10243) will be available to purchase in January 2014.
Check out the official Lego Design video here:
The Parisian Restaurant feels like it has been influenced by the rare Lego Market Street (10190) Modular Building. Although this new restaurant seems to avoid the problems that Market Street had. A more standard design that fits in with the other Modulars, and much more carefully thought out features. It looks like this set will fit in nicely with the latest Modular Buildings.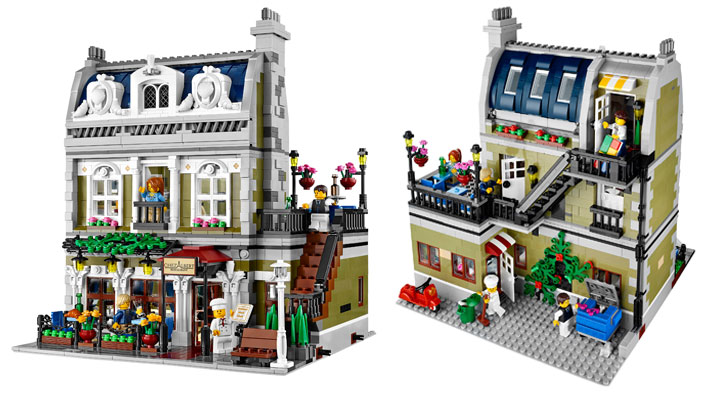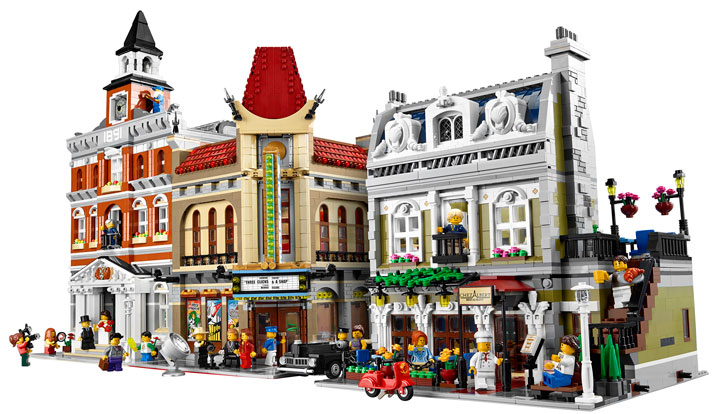 "Have an unforgettable evening at the amazing Parisian Restaurant!
It's very busy in the Parisian Restaurant. As a scooter zips by, inside the waiter rushes between the tables as the nervous young man gets ready to propose with the ring! It's just as hectic behind the scenes, with the chef busily preparing the food. This beautifully detailed building is the setting for so many stories and is a great addition to the modular building series. The Parisian Restaurant has a fully-stocked, blue and white tiled kitchen with tableware as well as a cozy apartment with pull-down bed, kitchenette and fireplace. On the top floor is the artist's room with a studio that includes a cast iron heater, easel, paintbrush and two works of art by the aspiring artist. Outside, stairs lead down to the roof terrace lined with hanging lanterns and flowers where the diners eat alfresco-style. This amazing Parisian Restaurant model even includes a facade with croissants, clams and feather details that recapture the feel of Paris. Includes 5 minifigures: chef, waiter, girl and a romantic couple."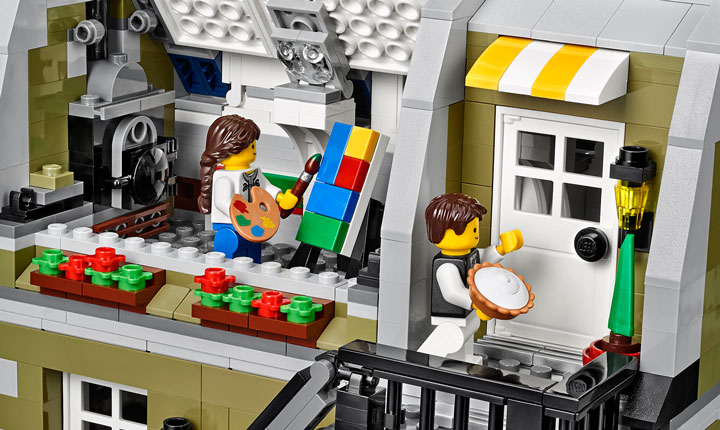 The Lego Creator Parisian Restaurant (10243) comes with an all new Moped style scooter. This new scooter alone is worth the full price. Vrooom…