The newest Lego Minifigures Series is almost here. The Lego Simpsons Minifigures will be available for sale in May, at a price point of $3.99. All 16 Minifigs include unique head sculpts and in most cases new accessories. There is a whole lot of printed pieces in this series. Even though the Minifig heads are definitely Simpsons their bodies and parts mix and match pretty well with other themes. WhiteFang has just posted an early Lego Simpsons Minifigures Review over on Eurobricks.
Each box of the Lego Simpsons will include at least 3 complete sets of Minifigures. The Simpsons family makes up the most common Minifigs, and the smaller characters are the rarest. There are 5 Homer Simpsons, 5 Marge Simpsons, 5 Bart Simpsons, 4 Lisa Simpsons, 4 Maggie Simpsons, 4 Krusty the Clowns, 4 Ned Flanders, 4 Itchys, and 4 Scratchys. The hard to find characters come in sets of 3, with Grandpa Simpson, Apu, Mr. Burns, Nelson, Clancy Wiggum, Ralph Wiggum, and Milhouse. This is probably the best assortment. It favors the whole family, but doesn't make any of the other character extremely rare. Luckily all of these Minifigs should be pretty easy to feel inside the packaging, as each character is unique.
Lego spent a lot of time creating these new Minifigs and it shows. The attention to detail, and fan references in these Minifigs are all perfect. The one exception is that the fat characters (Homer, Wiggum, and Krusty) look a little bit weird with the default Lego body. It looks like everyone has been on some amazing diet. It would be interesting to see the stomach piece from the Hobbit theme be appropriated here. Still you can sign me up for a whole set. They will look great with the Simpsons House.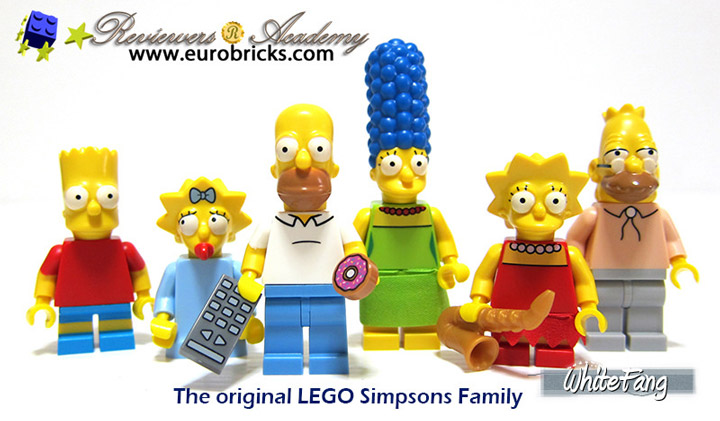 Make sure to read the whole review of the Lego Simpsons Minifigures (71005), by WhiteFang, over on Eurobricks: http://www.eurobricks.com/forum/index.php?showtopic=91646