Do You Know What Day It Is?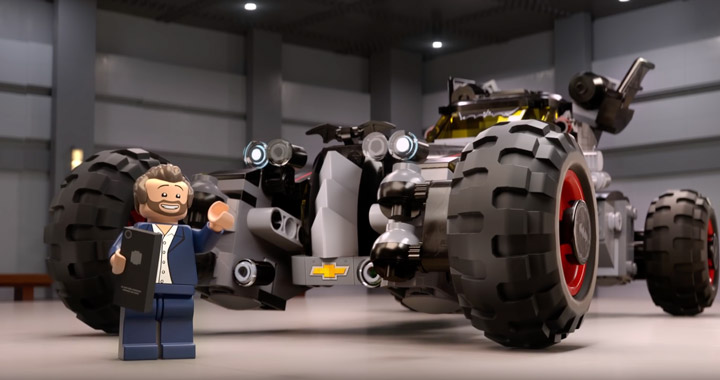 In one of the weirder marketing moments of this new year, it has been revealed that the new Lego Batmobile is "built by Chevy." There is even an official website. It looks like Lego Batman paid $48,000,000 for  his new wheels. It has 120,000 lbs. max towing capacity, 20,000 horsepower, and comes equipped with 4G-LTE connectivity. Also listed as features are flame rocket boosters, fully-articulated wheels, and a standard 60.2L V100 engine. The Batmobile can operate in three modes. Race Mode, Monster Truck Mode, and Parallel Park Mode. The only downside… it seats 2 Minifigures.
"Every angle, sharp as a tack. Every element, handcrafted for hot pursuit. When dreaming up the LEGO® Batmobile, designers drew inspiration from a combination of classic renditions and other-worldly shapes. The result? An enemy-evading machine that will draw stares and fend off foes in equal measure."
Check out the commercial above, then go check out the official Batmobile website over at Chevy: http://www.chevrolet.com/all-new-lego-batmobile.html
LegoGenre is giving away a free copy of Lego Batman: The Video Game (Steam code) as a THANK YOU. A thank you for following and reading LegoGenre.
To enter the drawing, follow @LegoGenre on Twitter and retweet the following:
"Free Lego Batman (Steam code) to give away! Winner announced on 02/24. To enter: follow @LegoGenre and retweet this."
You can click the link above to go directly to Twitter. I will post the winner on 02/24 (Monday) at 11:00PM Pacific Standard Time. I will also post the name of the winner here shortly after. Good Luck!
https://twitter.com/LegoGenre/status/437356136530857985
UPDATE!
Thanks for all the retweets. The winner is @agbavna. Congratulations!
If you didn't win, check back in the future because another giveaway should be coming soonish.