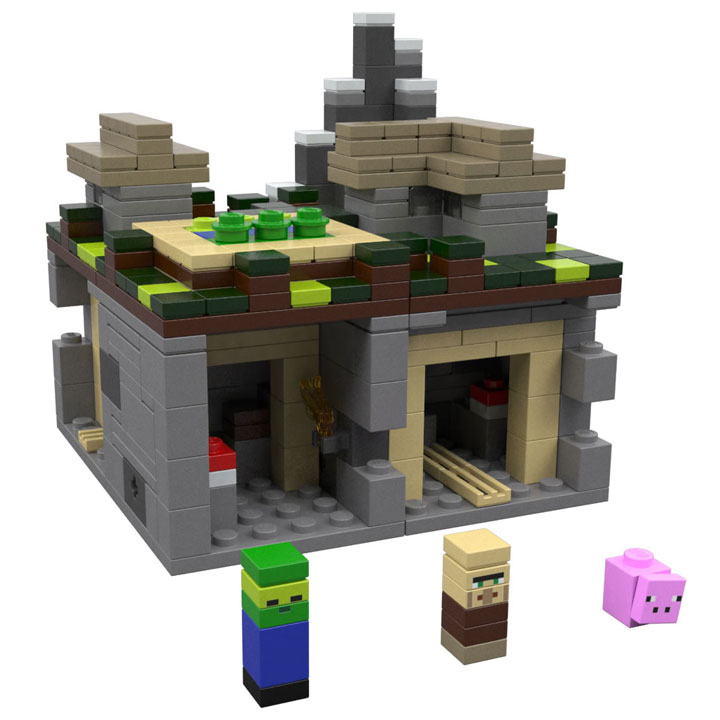 Lego has officially announced two new Lego Minecraft
sets. The Village (21105) and the Nether (21106) which will be released in September 2013. These new sets have been mysterious rumors up until today. Lego made this announcement from Comic-Con San Diego. If you are attending the Con, make sure to check out these new sets in the Lego booth (#2829).
Lego Minecraft: The Village (21105) is built in the same scale as the original Lego Minecraft
set. Featuring four modular pieces that can be rearranged into many different combinations. This new set features a tiny Minecraft village and a place to grow crops. But, underneath this unsuspecting village is a system of underground mines where your villagers can adventure.  This new set comes with three tiny Micromobs, a pig, villager, and zombie. The Minecraft pig is pretty darn cute.
The other new set is the Lego Minecraft: The Nether (21106). It is also built in the same scale as the other Minecraft sets. Meaning that if you have all three of them, you can combine them into a giant playset. The Nether can be accessed through an Obsidian Portal, where your poor adventurer can explore this new biome. The set features, Netherrack, gravel, lava, and bedrock. All essential ingredients for your Minecraft creations. Here you get three Micromob figures, a Zombie Pigman and two Ghasts.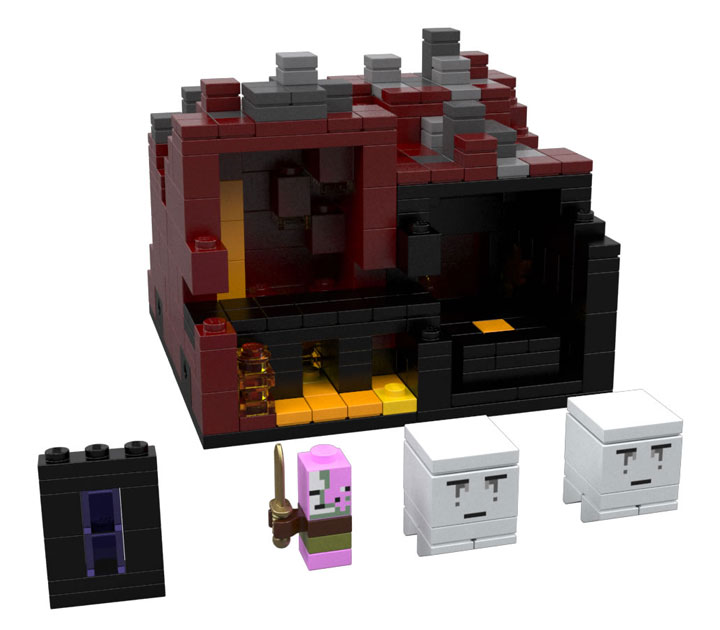 The original Lego Minecraft (21102)
set has been a runnaway success for both Lego and Mojang. Originally offered through the Lego CUUSOO program, the set proved so popular that it has been developed into a full theme. Featuring a modular, and micro scale building style these sets have really expanded upon what most people have expected from Lego.
"LEGO Minecraft is a perfect example of how people's passions can be amplified when digital and physical interests are combined, and there couldn't be more synergy between the engine that drives the Minecraft gaming experience and the creative fuel of a LEGO building experience," said Michelle Wilson, senior brand manager for LEGO Systems, Inc. "We are thrilled to continue our collaboration with Mojang to create new Minecraft characters and environments in LEGO form so that fans can get as creative as they'd like in their physical world as in their digital one."
"There's no doubt about the connection between LEGO building and Minecraft — not only the design similarities, but the immense creativity that our fan bases share," said Lydia Winters, Mojang's director of fun. "Given how well received the first model was last year, we can't wait to see what fans think of these new designs." — Lego
Now is a great time to pick up the original Lego Minecraft (21102)
, available at Amazon. These sets are extremely popular and if they happen to be sold out, check back at a later date. Lego is constantly releasing more. Each time a new shipment is available, the price is set for the MSRP of $34.99.
Update: Available Now!
These two new Minecraft Lego sets are available now. Check out Amazon.com for the details: Lego Minecraft: Micro World, The Village
and Lego Minecraft: Micro World: The Nether.