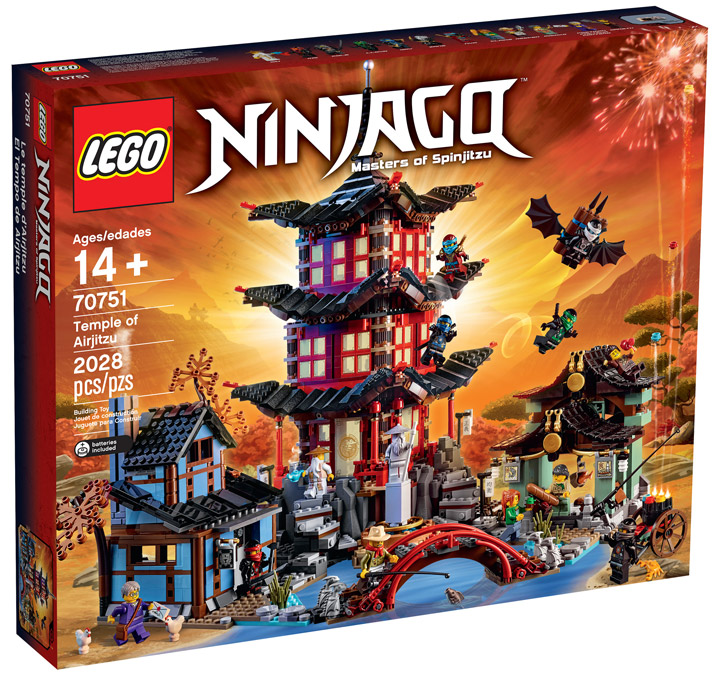 The epic Lego Ninjago Temple of Airjitzu has just been announced. It is a massive 2,028 piece set, making this the ultimate Ninjago set. Not only that but it includes 12 Minifigures. These will include Lloyd, Kai, Jay, Zane, Cole, Nya, Wu, Misako, Dareth, Postman, Jesper, and Claire. An easy way to get a full collection of the Ninjas in their rare black outfits.  The main Airjitzu Temple is flanked by a Blacksmiths workshop and a Smuggler's Market. All connected with a charming bridge. This set is very reminiscent of the super popular Medieval Market Village from a few years ago. There is even a fully working Shadow Theater in the Temples basement. With moving parts, and light up features. Another great thing about the Airjitzu Temple is that Lego has kept the craziness of the Ninjago theme to a minimum. Making this a great set for collectors.
This announcement is perfect timing for the San Diego Comic Con (SDCC), where it will be displayed for all to see. The official release date of the Lego Ninjago Temple of Airjitzu will be September 2015, and if you are a VIP Member you can pick it up a few weeks early on August 18th.
"Join the Ninja at the beautiful Temple of Airjitzu!
Enjoy the ultimate LEGO® NINJAGO™ building experience as you construct the majestic Temple of Airjitzu and surrounding village! The highly detailed Temple building has many delightful architectural features including Oriental–style decorated windows and sliding doors. The intricate wooden-frame-style walls of the nearby Blacksmiths and beautiful curved roofs of the Smugglers Market will also test your LEGO building skills. And with every Ninja included in one set for the first time, plus loads of other key characters, you can role-play all your favorite NINJAGO adventures. Take tea in the reception area of the Temple, practice your Ninja moves in the training room or join Wu in his study to read or paint. Discover the Ninja glider upstairs at the Blacksmith's workshop, cross the bridge guarded by the stone dragons and seek out hidden treasure at the Smugglers' Market. Then turn off the lights in your room to watch the Temple's illuminated spinning shadow theater!
Available for sale directly through LEGO® beginning
September 2015 via shop.LEGO.com, LEGO® Stores or via phone
• Includes 12 minifigures with assorted weapons: Lloyd, Kai, Jay, Zane, Cole, Nya, Wu, Misako, Dareth, Postman, Jesper and Claire.
Ages 14+. 2,028 pieces.
US $199.99 – CA $229.99 – DE 199.99€ – UK £169.99 – DK 1799.00 DKK
*Euro pricing varies by country. Please visit shop.LEGO.com for regional pricing."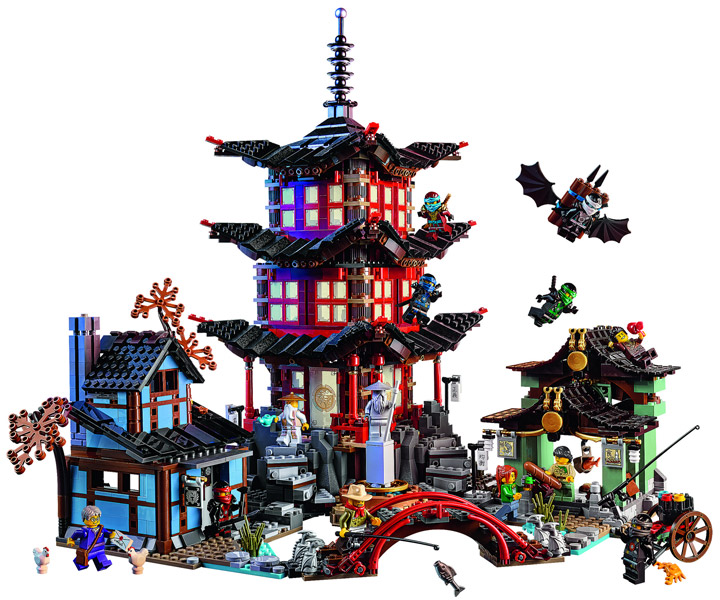 There a whole lot of details hidden away in this set, so make sure to watch the Designer Video below.