"Float On." — AuntiePesto
Bricklies is a weekly lego webcomic created by AuntiePesto and hosted by LegoGenre. Updates every Friday.
Lego has a a long history of advertising. Some of their campaigns have been amazingly creative. And some have a message that people remember forever. Recently people have rediscovered a small pamphlet that Lego produced in 1974. It is note that explains to parents that children have a desire to be creative that can and should manifest itself anyway that it can. It is a great message to teach, and shows a a side of Lego that seems to have been dissolving over time.
"The urge to create is equally strong in all children. Boys and girls.
It's imagination that counts. Not Skill. You build whatever comes into your head, the way you want it. A bed or a truck. A dolls house or a spaceship.
A lot of boys like doll houses. They're more human than spaceships. A lot of girls prefer spaceships. They're more exciting than dolls houses.
The most important thing is to put the right material in their hands and let them create whatever appeals to them."
Let sent this note out across the world, and had it translated into other languages. A German version has also been rediscovered.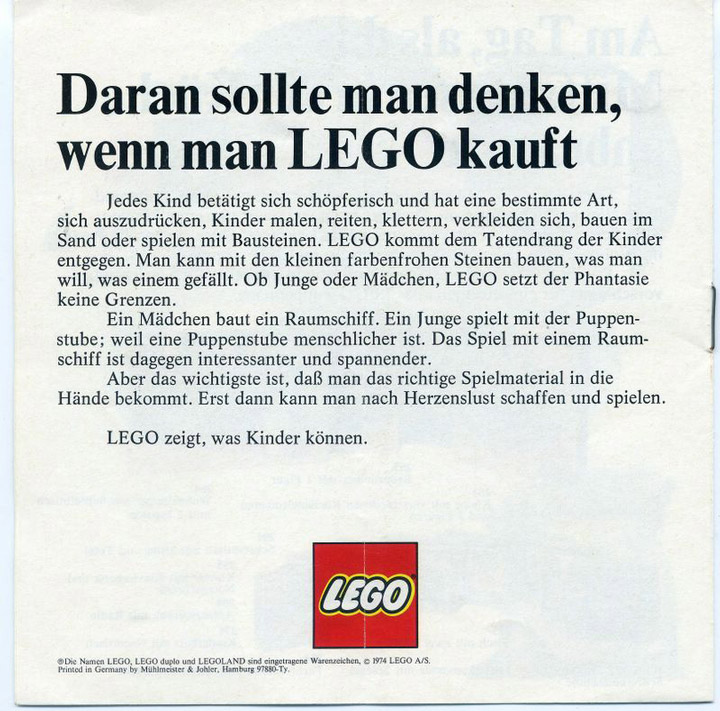 Reddit user fryd_ originally brought attention to this Lego note: http://www.reddit.com/r/pics/comments/2n1t47/70s_lego_had_the_right_idea/
And, the blog io9 investigated this message and verified its details: http://io9.com/these-lego-instructions-from-1974-are-awesome-and-yes-1662169567
Most Lego creations are a form of art, but some strive to be a little something more. This Lego sculpture, titled Inside the Mind of a Lego Artist, is the creation of Kristal. This is a kinetic sculpture that can almost qualify as an Automaton. The feature here is that the human head can open up and reveal an inner working of the mind. A place of imagination and wonder. Which is an explosion of color when compared to the outer white shell.
Make sure to check out the video below. The opening of the mind is a great surprise, and features some slick work with pulleys and gears. The second half of the video goes into the details of the technical system created.
Check out more details of Inside the Mind of a Lego Artist at JK Brickworks: http://jkbrickworks.com/inside-the-mind-of-a-lego-artist/