Lego has recently announced the new Lego Creator set, the Fairground Mixer (10244). A great complimentary set for the Grand Carousel (10196). The Fairground Mixer arrives aboard a huge truck, along with all the other pieces for a traveling carnival. The Mixer ride can be unfolded from the truck, and in a few easy steps it can be ready to ride. The ride features some ingenious mechanicals allowing it to spin and turn with the help of a hand crank. If that seems too laborious, then you can hook up your own Lego Power Functions for a fully automated experience. The Fairground Mixer will include 1,746 pieces at $149.99. It will be available this June, 2014.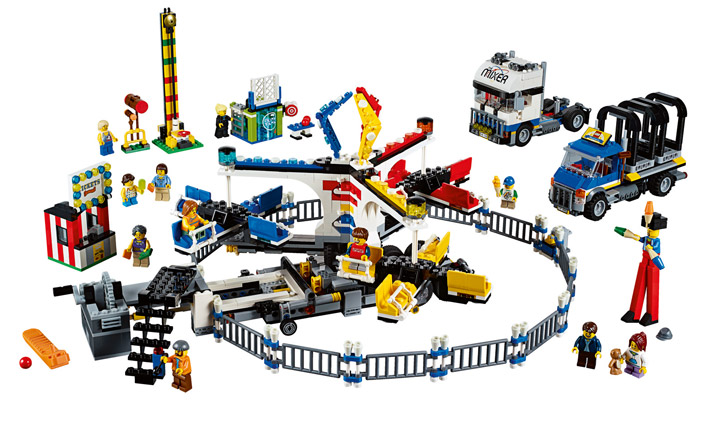 The Fairground Mixer comes with a whole lot of other stuff too. A ticket booth, a dunk tank, and a strongman game (high striker). All of this can be packed up on the two include trucks for easy transportation.
These two trucks are really neat, and Lego has done a great job squeezing all of the rides and details onto these fully functioning vehicles.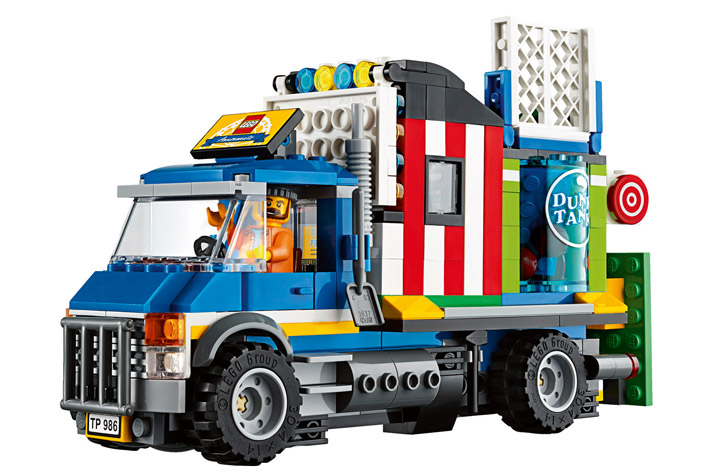 What would a traveling carnival be without the crowds. Lego has included 12 Minifigures, which seems to be very generous (compared to their other recent releases). There is the quintessential queasy man who is holding it all back after a ride on the Mixer. A female carnival guest and two children (boy and girl).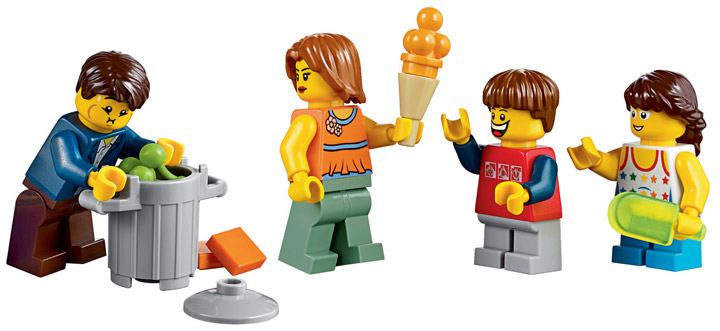 There is also another female guest ready for some fun. A strong man challenger. A truck driver/ride operator. And, a juggling man/carnival employee.

Finally there is the ticket booth operator, two more children (boy and girl) and the dunk tank lady.
"Climb aboard the LEGO® Fairground Mixer and hold onto your hat!
Unfold the awesome Fairground Mixer, turn the crank and see it come to life! The fair has come to town and children and adults alike can't wait to try the rides. Buy your ticket from the ticket booth and climb aboard the Mixer. Then try reaching the golden bell on the high striker or hit the target to plunge the dunk tank lady into the water. As evening falls, the swirling Mixer ride glows in the darkness, before being folded down onto its own trailer for transportation to the next town. This magical fairground is packed with wonderful details that will capture everyone's imagination. Includes 12 minifigures: a juggling man on stilts, dunk tank lady, strong man challenger, ticket lady, truck driver/ride operator, 2 women, 2 girls, 2 boys and a queasy man who tried the mixer one too many times.
Enjoy the magical atmosphere of the fairground with the LEGO® Fairground Mixer, packed with exciting features and imaginative details.
Ages 16+ | 1,746 Pieces
US $149.99 – CA $179.99 — AU $199.99 – DE 129.99€ – UK £119.99 – DK 1,199.00 DKK
*Euro pricing varies by country. Please visit shop.LEGO.com for regional pricing
Available for sale directly through LEGO® beginning June 2014 via shop.LEGO.com and LEGO® Stores"