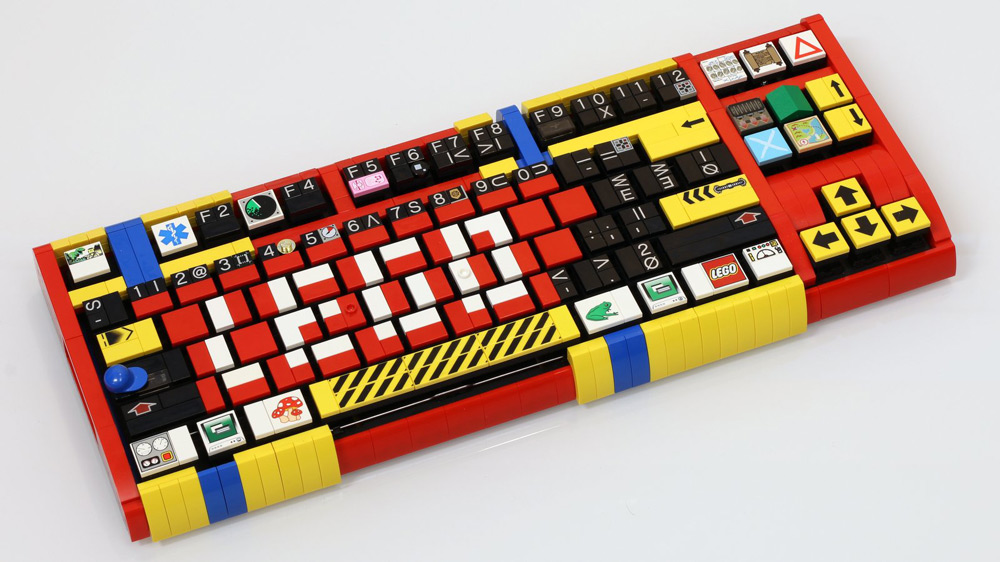 There is something about the tactile feeling of a mechanical keyboard. The loud key clicks and the distance of travel make the keyboard very satisfying to type on. A whole community has formed around these keyboards. Many custom and commercial versions are available. If you want to go even further down the rabbit hole, there are custom keycaps with all sorts of designs and colors. This custom Lego mechanical keyboard is the work of JK Brickworks. They started with a base; by gutting a Cooler Master Quick Fire Rapid and some 3D printed custom Cherry MX compatible LEGO keycaps. This allows Lego bricks to be clicked onto the working keyboard. Kind of similar to the new Lego Dots theme. The finished design features a lot of printed tiles, some of which are extremely rare. The caps lock is a bit more tactile and features a classic Lego hat. The best part is that at any time the keycaps can be changed out with different colors and/or newer printed Lego tiles.
Another earlier version of this project was built up using a membrane style keyboard. Which was gutted and built back up with a Lego Technic skeleton. Not as satisfying as the newer mechanical kind, but still an amazing project.
The designer of the custom Lego compatible keycaps offers them for sale in the Shapeways store. This way you can customize your own keyboard, with out going all Lego.
You can find out more about this Mechanical Lego Keyboard over here: https://jkbrickworks.com/mechanical-lego-keyboard/
Also make sure to check out the video below, showing the whole thing being built, and how it works. — https://youtu.be/2jP6MFBXFaA