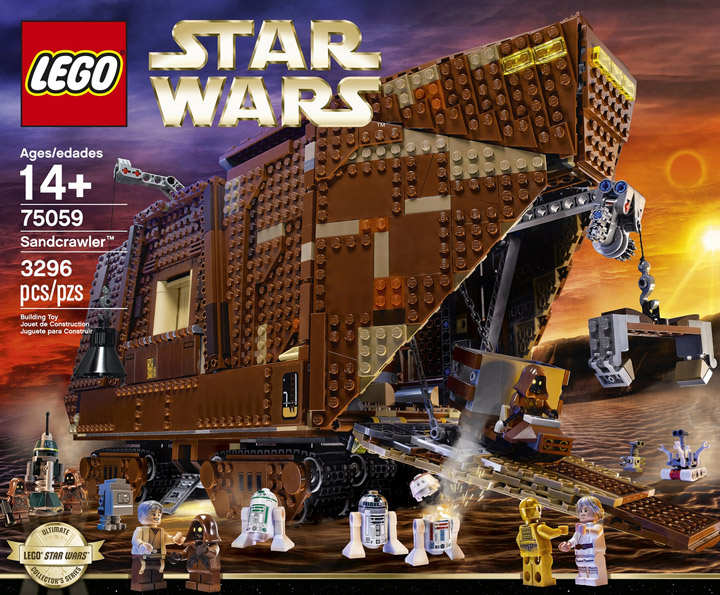 Lego just released new details on their newest Lego Star Wars Ultimate Collector's Series Sandcrawler (75059). This being an upgrade to the 2005 Lego Sandcrawler (10144). There will be 7 minifigures (Luke Skywalker, Uncle Owen, C-3PO, and 4 Jawas) plus 6 droids (R2-D2, an R2 unit, an R1-series droid, Gonk droid, R5-D4, and the Treadwell droid) included. With a total of 3,296 pieces and a price tag of $299.99. This thing is big.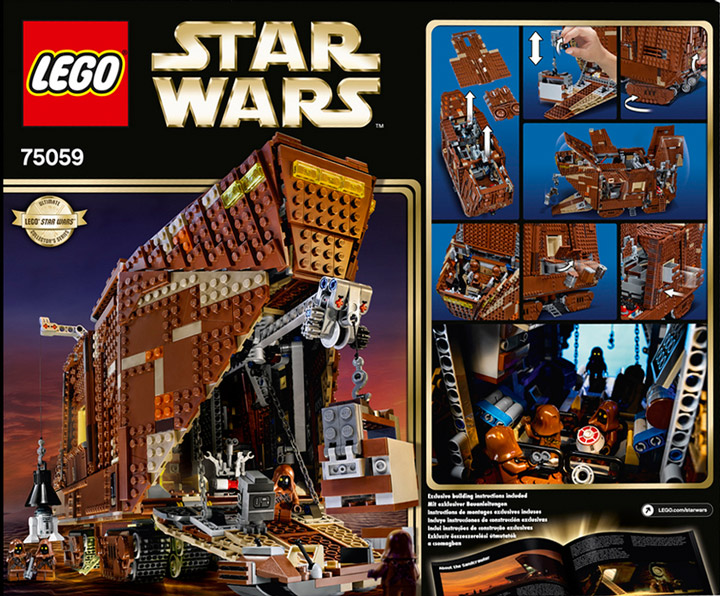 The final design of the Sandcrawler contains a whole lot of exposed studs. It looks like a lot of SNOT techniques are used to achieve some of the odd angles but Lego opted to not hide the studs. Giving the Sandcrawler a more messy appearance then expected. The final model is almost entirely made up of shades of brown. Keeping with the source material. So if you are looking to rapidly expand your collection of brown bricks, this will be the set for you.
The new Lego Sandcrawler is not just a brown box. The Lego designers have squeezed an impressive amount of features into the design. With 2 fully working cranes, knob based steering, 6+ opening panels, and a whole lot of hidden barrels and storage space. The treads on the Sandcrawler are especially notable and should prove popular with the tank building crowds.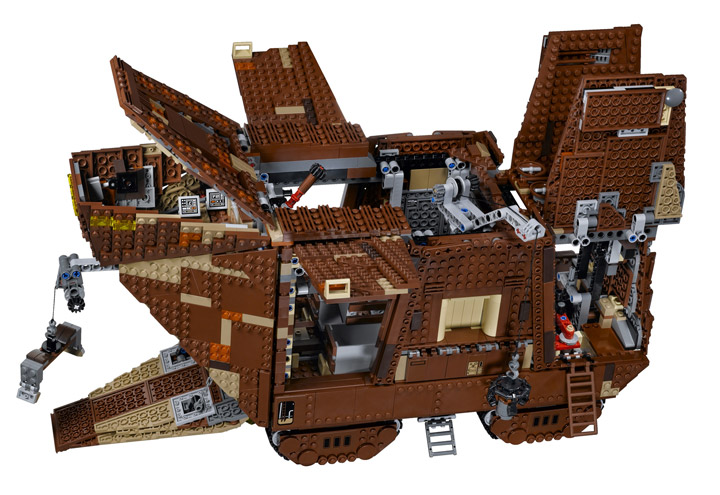 Collect a true icon of the classic Star Wars™ universe — the mighty Sandcrawler™!
Recreate unforgettable scenes from Star Wars: Episode IV A New Hope with this amazing LEGO® incarnation of the Jawas' desert-going vehicle, the Sandcrawler™. Turn the knob at the rear and steer the Sandcrawler into position, lower the front ramp and offload the droids using the 2 working cranes. Luke Skywalker™ and his Uncle, Owen Lars, are sure to be impressed with the selection on offer: there's R2-D2, an R1-series Droid, an R2 unit, R5-D4™, a Treadwell Droid™, Gonk Droid™ and even C-3PO™. When the sale is complete, lift the side panels and top to reveal more great features inside, like the engine, storage bay, cockpit and more. There's even a speeder bike for when the Jawas need to venture outside. Includes 7 minifigures: Luke Skywalker™, Uncle Owen, C-3PO™ and 4 Jawas™, plus R2-D2™, R2 unit, an R1-series Droid™, Gonk Droid™, R5-D4™ and a Treadwell Droid™.
Ages 14+ 3,296 Pieces
US $299.99 – CA $3499.99 – DE 299.99€ – UK £249.99 – DK 2,799.00 DKK