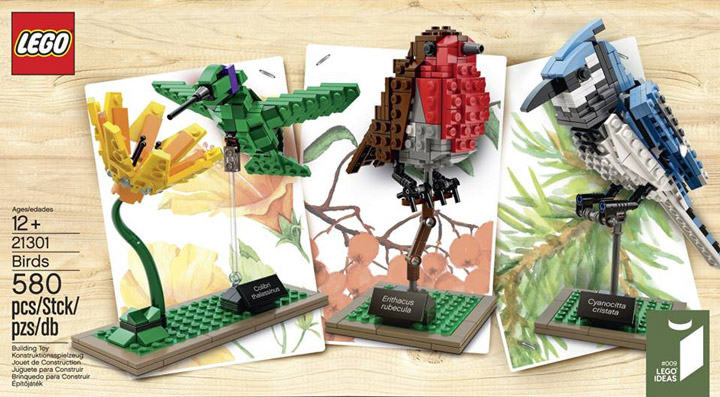 Lego has recently announced the results of their 2014 Lego Ideas Review. During the video they mentioned that a Lego Birds set would be released in 2015. Just a few weeks later and we now have official images. The Lego Birds will feature 3 of the most common birds. A Blue Jay, Hummingbird and Red Robin. The whole set features 580 pieces and will be released in January 2015. The whole package will retail for about $44.99, not a common price point for Lego. The price to piece ratio is looking really good here. Just a little under 8¢ a piece.
Interestingly, Lego has posted an interview with the project's creator, Tom Poulsom. The interview has some interesting comments about the design and marketing of this Lego Ideas project. Lets see if Lego will publish more of these interviews on future projects.
"TC: What inspired you to build this model and put it on LEGO Ideas?
TP: The majority of my creations have been replicas of man-made objects (cars, trucks and spaceships) I wanted to build something different, creating something to look organic seemed like a nice challenge. I have always loved nature and being a tree surgeon and gardener I get a lot of inspiration from my job. I was digging a vegetable patch one day and during a quick break I noticed a Robin land on my fork handle. This was the inspiration behind "Bobby the Robin". I built him that evening and enjoyed building this bird so much that I decided to build some of my favorite birds from Europe. Once I had built seven birds I posted one a day on Flickr. They were a hit! I couldn't believe the attention I received. A follower suggested I add the birds to LEGO Ideas and here I am now with an official LEGO set containing my Idea." — Lego Ideas
Go check out an interview with the Lego Ideas project designer here: https://ideas.lego.com/blogs/1-blog/post/22