Neuschwanstein Castle might be the most famous castle on Earth. A Romanesque Revival castle located in Germany, near the village of Hohenschwangau. The castle construction completed relatively late, in the year 1892. Since then, this little castle has made appearances in the films: Chitty Chitty Bang Bang, Ludwig, and Ludwig II. But, most importantly it was the original insperation for Disneyland's Sleeping Beauty's Castle.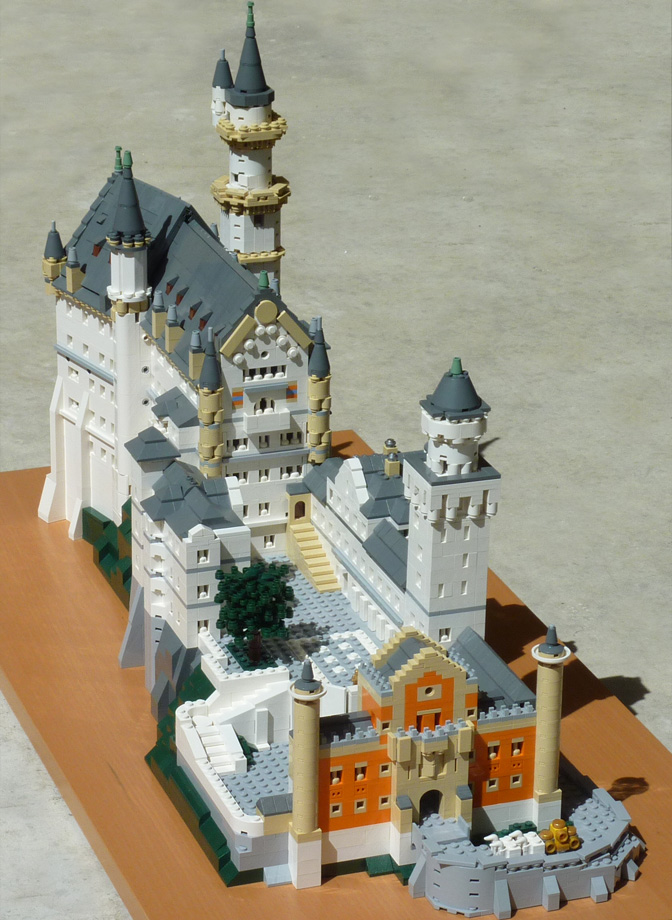 This Lego Neuschwanstein Castle is the creation of T-Bone, who put a whole lot of hard work into it. Not only has the color scheme been carefully thought out, but the details and design are accurate to the real life castle. Every window, door, tower, and room is accurate. Where there should be 5 windows, as on the real Neuschwanstein Castle, there are 5 windows in this Lego MOC. T-Bone even got the tree and pavement details correct.
Also note the extremely well made micro carriage with horses in the castles entrance.
Check out T-Bone's Lego Neuschwanstein Castle over on Brickshelf: http://www.brickshelf.com/cgi-bin/gallery.cgi?f=514019
Also make sure to check out the castle over on the Lego CUUSOO page: http://lego.cuusoo.com/ideas/view/1128