Clue (or Cluedo for most of the world) is one of the classic board games. With the resurgence in gaming in general in the last decade, most of the older games have been replaced with games that are just more fun to play. Monopoly is a great way to start a fight, or to fall asleep. Candy Land is super simple. Shoots and Ladders takes no skill to play. Risk takes all day. All of these games are having a hard time keeping up with the modern era. Clue doesn't quite have that problem. It is still fun to play, doesn't take 6 hours to finish, and doesn't rely on one player having all the power. But, Clues biggest problem is that people forget it's around.
Lego builder Ian Spacek pays Clue (Cluedo) a wonderfull tribute with his Lego version. All of the main characters are here, Colonel Mustard, Miss Scarlet, Professor Plum, Mrs. Peacock, and others. They all have access to a wide verity of weapons hidden throughout some of the popular rooms in the mansion. There is even a wonderful score card accompanying the board game. The logo on the score card is one of the best details here.
Now I am off to watch one of the best movies ever.
"In your hands, you each have a lethal weapon. If you denounce me to the police, you will also be exposed and humiliated. I'll see to that in court. But, if one of you kills Wadsworth now, no one but the seven of us will ever know. He has the key to the front door, which he said would only be opened over his dead body. I suggest we take him up on that offer. The only way to avoid finding yourselves on the front pages is for one of you to kill Wadsworth. NOW."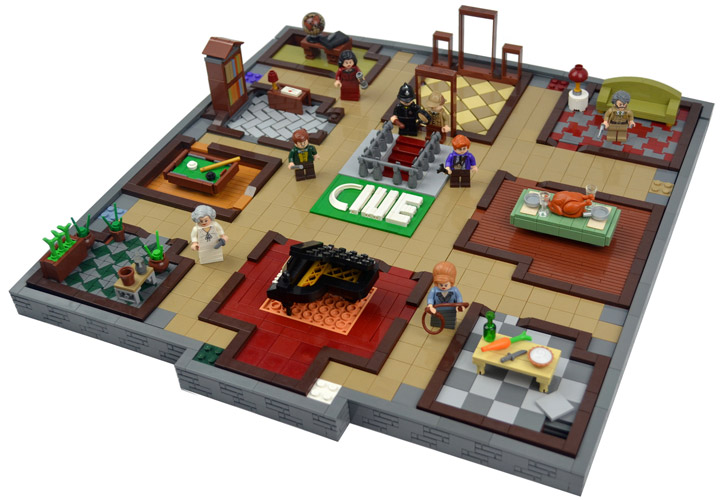 Go check out Ian Spacek's Lego Clue (Cluedo) Boardgame over on Flickr: https://www.flickr.com/photos/89235500@N02/15646261445/