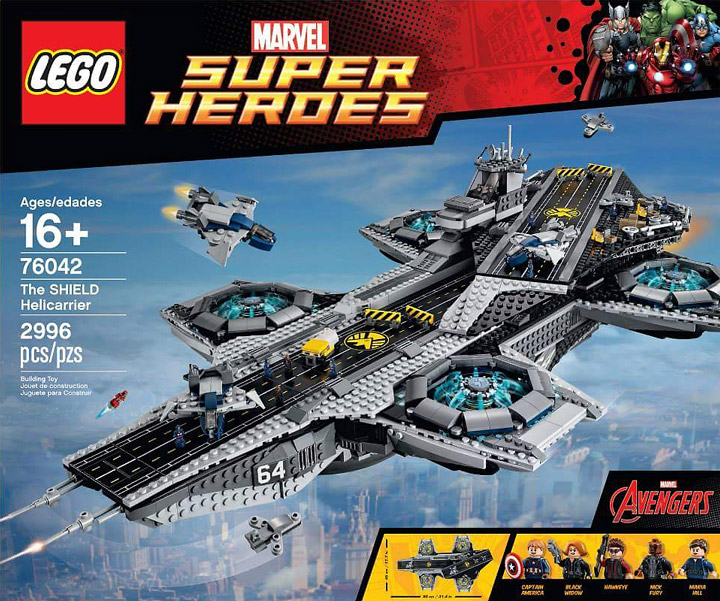 There have been rumors for a few months that Lego would be releasing a SHIELD Helicarrier (and many huge Lego Ideas projects). It is not a rumor anymore, Lego has just announced the Lego Super Heroes, The SHIELD Helicarrier (76042) from the Avengers film will be released soon. The biggest problem about such a set is the scale, it is just so large that what everyone wants is just not a feasible release. It would be either too big or too small. What we get here is an amalgamation of a few scales in order to best represent the massive flying fortress. Interestingly, there is a whole set of Minifigures, and Microfigures (Mini-Minifigures).
The Helicarrier will include 2,996 pieces, and will retail for about $349.99. It will be available on March 1st. Just in time for the Avengers: Age of Ultron film in May.
This thing is huge.  It is 2 1/2 feet long (31″ or 80cm) long and almost almost 1 foot tall (11″ or 29cm). The included Quinjets are a nice touch; even if they are way out of scale. The tinnier Fighter Jets fit in much better but are less recognizable. This seems like a good compromise, by including both Lego is giving you options for how to display this.
Even though this is not the typical kids playset, Lego has still included a handful of play features. The engine rotors are internally connected and can be turned with just one handle movement. The top deck, runway, can be removed to reveal a fully featured bridge. Both of these features can be connected with the Lego Power Functions, which will light up the interior and spin the engines automatically.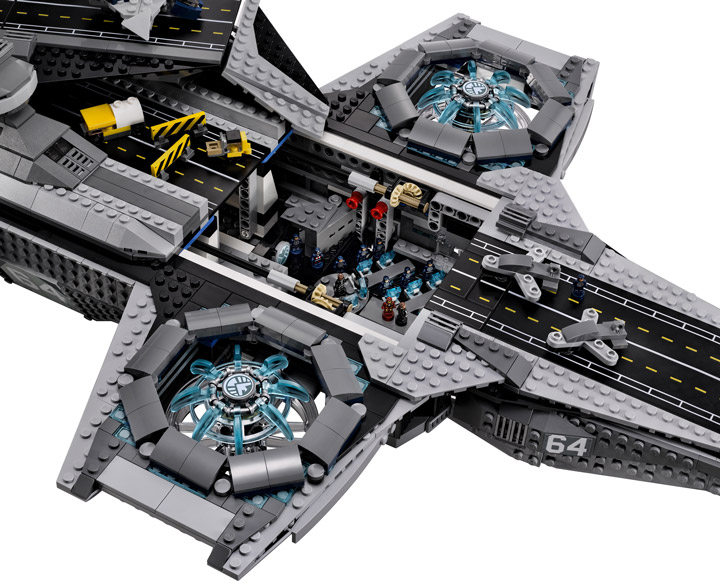 One of the coolest details is the fully detailed bridge. With the Microfigures it is looking semi-accurate to the film version.
There are 12 Microfigures! 4 of the main heroes and 8 SHIELD agents. These are a great way to incorporate the characters into the Helicarrier without being too far out of scale. Interestingly, the two female characters that are included as Minifigures are not represented as Microfigures. The good news is that SHIELD Agent Maria Hill gets an exclusive Minifigure here. Hopefully she won't stay exclusive for too long…
Build and display the huge SHIELD Helicarrier!
Take on the challenge of building this awesome LEGO® model of The SHIELD Helicarrier. Construct the flying aircraft carrier with 2 runways, microscale Quinjets, fighter jets and ground support vehicles. The set also comes with many of your favorite LEGO Marvel Super Heroes minifigures, plus 12 microfigures to display on deck and within the highly detailed interior. Includes 5 minifigures: Nick Fury, Black Widow, Captain America, Hawkeye and Maria Hill.
Includes 5 minifigures: Nick Fury, Black Widow, Captain America, Hawkeye and Maria Hill, plus an iconic SHIELD eagle stand to display them on.
Features 3 microscale Quinjets, 3 fighter jets, a gasoline truck, 2 forklift trucks, 2 runways, 4 road blockades, armored exterior with translucent elements, detailed interior, plus 12 microfigures (Nick Fury, Hawkeye, Captain America, Iron Man and 8 SHIELD agents).
Also includes a detailed runway.
Weapons include Hawkeye's bow, Black Widow's gun and Captain America's shield.
SHIELD Agent Maria Hill minifigure is new for spring 2015!
Includes a plaque with facts about The SHIELD Helicarrier.
Add lights and spinning rotors to the Helicarrier with the 88000, 8883 and 8870 LEGO® Power Functions sets (sold separately).
Rotors can also be turned manually.
Includes a display stand.
Helicarrier measures over 11" (29cm) high, 31" (80cm) long and 17" (45cm) wide
Each Quinjet measures over 1" (3cm) high, 2" (7cm) long and 2" (7cm) wide
Minifigure stand measures over 4" (12cm) high, and 2" (6cm deep) and 6" (16cm wide)

Also, make sure to watch the Lego Design Video embedded above or over here: http://youtu.be/3O422YCyzjs