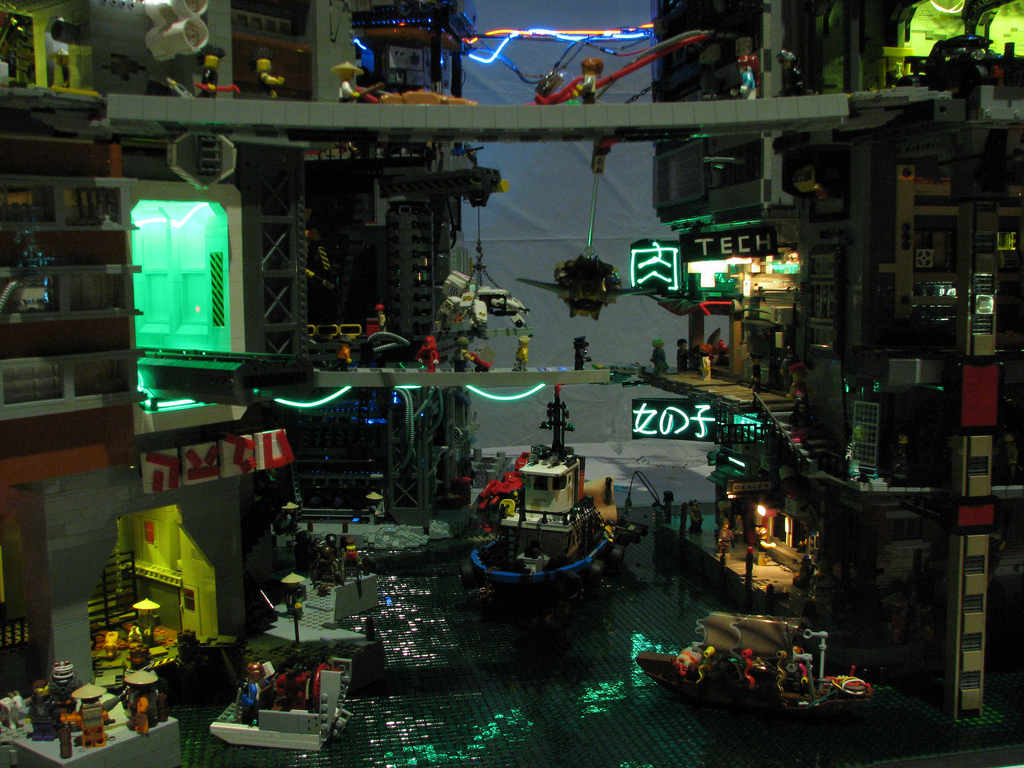 Cyberpocalypse is an amazing Lego Cyberpunk city. You can almost imagine Rick Deckard, Case, Hiro Protagonist, Adam Jensen, Akira, or Major Kusanagi hiding out in the streets of Cyberpocalypse. By combining different cultures in this city it helps to capture the urban feel of cyberpunk perfectly. The feeling of overwhelming density, hyper advertising, all mixed with a bit of lawlessness. This is a vision of a future that never came, or a future that is inevitable. Cyberpocalypse proves that Lego and cyberpunk are a perfect match.
This version of Cyberpocalypse stars work from Carter Baldwin, Nate Brill, Kyle Vreze, Forest King, Ignacio Bernaldez, Sam Wormuth, Alex Valentino and Chris Edwards. This team, lead by Carter Baldwin, set out to create a near future version of a metropolis, and succeeded. This city looks great in daylight, but looks even more impressive at night. Using an extensive array of hidden lighting to bring a sense of hustle and bustle to Cyberpocalypse.
More Cyberpunk Lego & Cyberpocalypse here:
Cyberpocalypse has recently been on display at Brickworld 2013. With plans to make an appearance at BrickFair in August. It will be interesting to see where this project goes, as the team is currently planning on adding more to this MOC, and expanding the lighting system too.
The Lego cyberpunk city, Cyberpocalypse, can be found all over Flickr: Here, here, and here…