There are a whole bunch of Lego Batman MOCs out there (click here). And for some reason people put a whole lot of time creating some of the most massive Lego scenes out there (see this one, and this one). The great thing is that there is always room for more. Check out this beautiful Lego MOC, titled "Lego Batman vs Joker Gotham Theater Showdown" built by Paul Hetherington. The scene depicts an epic fight between Batman, Robin, and Joker in the streets of Gotham. This MOC is essentially three smaller builds in one. The center piece is the Art Deco styled Gotham Theater, there is the street and trolly outside, and there is a huge brick built background. There is even a detailed story:
"Once again that Mad Harlequin of Hate, The Joker, brings menace to the citizens of Gotham. Beware as the Streetcar named Destruction advances into Gotham, and the Joker's henchmen unleash horrible Joker Gas! Listen to the eerie dreadful laughing — has the Joker taken control of everyone?!? Wait — look above – that symbol of justice descending from the sky — The Batcopter! Piloted by the plucky Robin, The Boy Wonder and the courageous Batman! Are the tornado team of crime crushers in time to oppose the Grim Jester in the gripping tale of — Gotham Theater Showdown!"
Paul Hetherington has created one of the most beautiful Lego Art Deco style buildings. The Gotham Theater was originally inspired by Marbro Theater of Chicago (sadly torn down in 1964). This build features a limited palette of beige, brown, black, and gold detailing. Check out all of the unique patterns and textures on the facade.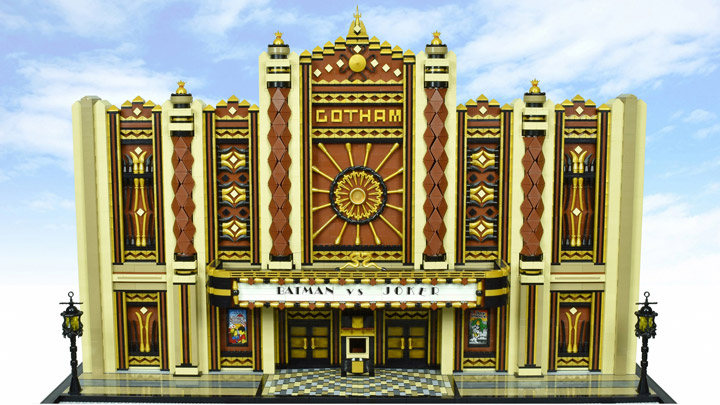 Gotham Theater Power Functions Video
The Lego Batman vs Joker Gotham Theater Showdown has a secret. Power functions have been built into the scene and carefully hidden. The street car moves back and forth. The Joker is moving/aiming the balloon cannon up and down. The cops are all laughing out of control, spinning and falling down. And the Batcopter is hovering/twirling in place amid all this chaos.
Check out this epic Batman MOC over here for more details: https://www.flickr.com/photos/14964802@N07/28083801676/